Posts for: June, 2014
By Dr. Denise A. Perrotta
June 17, 2014
Without orthodontic treatment, many dental health issues caused by improper teeth and jaw alignment can lead to tooth decay, gum disease, bone loss, speech impairments, chewing difficulties, tooth loss and more. Crooked and overly crowded teeth are hard to clean, and an improper bite can cause abnormal wear on the tooth's surfaces as well as headaches or neck pain caused by excess strain or misalignment of the jaw joints.
The good news is that orthodontic treatment is highly effective in correcting and preventing a range of problems related to improper teeth and jaw alignment. But apart from improved oral health and proper oral function, one of the most visible benefits of correcting misaligned teeth and jaws with orthodontics is the enhanced appearance and self-confidence that results from a straight, beautiful smile.
At Denise A. Perrotta, D.M.D, we understand that how a person looks also plays a role in a person's quality of life. That's why Dr. Perrotta offers both orthodontic Invisalign and cosmetic dentistry in Winston Salem aimed to enhance the health and aesthetics of patients' teeth. When your smile looks and feels good, you can feel better about yourself and your daily encounters with others.
Types of orthodontics
Who can benefit from orthodontic treatment?
Both children and
adults can benefit
from orthodontic treatment as a highly effective way to improve oral health and appearance. Orthodontic treatments can correct an array of dental issues with the most common being overcrowding, overbite and underbite. An initial consultation with a trained dental professional can help you determine the best course of treatment for your needs and goals.
In addition to orthodontics, cosmetic services are equally as effective in correcting dental flaws and transforming smiles. Dr. Perrotta is experienced in Winston Salem, NC cosmetic dentistry and offers a range of smile-enhancing treatment options for patients looking to improve the appearance of their teeth. From simple teeth whitening and porcelain crowns to full smile makeovers, such as veneers, we offer all types of cosmetic services aimed to meet every dental need.
If you'd like to learn more about the health and aesthetic benefits of orthodontic treatments, specifically Invisalign clear aligners, then consider visiting Dr. Perrotta for a free consultation. Dr. Perrotta specializes in cosmetic dentistry in Winston Salem, NC and can help you attain the beautiful, healthy smile you've always wanted. Contact our office today or simply request an appointment online for your free consultation.
By Denise A. Perrotta DMD
June 11, 2014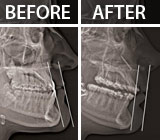 Orthodontics is a specialty of dentistry dedicated to the diagnosis and treatment of misaligned teeth, or malocclusions. The goal is to help patients achieve better long-term oral health by improving teeth alignment. Sometimes, though, the misalignment is much more involved than the position of the teeth — it may be that the jaw structure is also misaligned. In that case, the skills of an oral surgeon may be in order.
The jaws are similar in shape to the arch of a horseshoe, hence the referral to either upper or lower sets of teeth as dental arches. In a normal jaw structure, the lower arch fits just inside the upper arch when you bite down and the teeth are able to function correctly. In some individuals, though, the lower arch closes in front of the upper arch, commonly known as an underbite. If the underbite is only slight, the malocclusion can be corrected by repositioning the teeth only, as with braces. If, though, the underbite is more severe it would require a surgical procedure to realign the jaws, also known as orthognathic surgery.
Orthognathic surgery can help relieve a number of functional complications caused by jaw-related malocclusions: difficulty chewing and swallowing; chronic jaw or head pain; or sleep apnea. It can also enhance the patient's facial appearance by correcting an imbalance between the two lateral sides (asymmetry), or by minimizing a receding chin or protruding jaw.
Its primary benefit, though, is its effect on the patient's bite and tooth alignment. For this purpose, the orthodontist and oral surgeon work together to achieve the best result possible. In some cases, the orthodontist may perform his or her work first by moving teeth into the proper position. This sets the stage for the oral surgeon to perform orthognathic surgery to complete the correction of the misalignment.
Each individual patient's case is different — the best plan of action must begin with a full examination by an orthodontist, and a consultation with an oral surgeon if necessary. It may require time and the expertise of two specialties, but the final result will be better health and a better look.
If you would like more information on various orthodontic procedures, please contact us or schedule an appointment for a consultation. You can also learn more about this topic by reading the Dear Doctor magazine article "Jaw Surgery & Orthodontics."