We are taking a stand against oral cancer using OralID™ Fluorescence Technology
Dr. Perrotta joined forces with Forward Science, the manufacturer of OralID™, and became a provider of the ID For Life™ Program to promote early detection and public awareness of oral cancer in the office. She will be offering enhanced oral cancer screenings during scheduled appointments to new and current patients.
Oral Cancer is not a rare disease and unfortunately it is on the rise. This year, approximately 53,000 will be diagnosed with oral cancer in the United States alone. Due to late stage discovery, one American dies every hour from oral cancer.
Dr. Perrotta uses an oral cancer screening device, OralID, in efforts to discover oral cancers in their earliest stages. Currently, 71% of oral cancers are found in late stages (stage III, IV), resulting in a 5-year survival rate of less than 50%. Finding these abnormalities in much earlier stages can increase the 5-year survival rate up to 80-90%. Those interested in receiving an oral cancer screening or learning more about the advanced technology we have implemented, contact our office at 336-760-9258 and ask about our OralID screenings.
For additional information about OralID visit:
https://forwardscience.com/oralid/research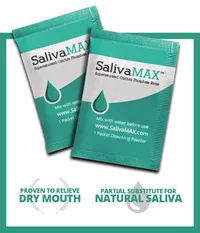 A New Class of Treatment
SalivaMAX® is a supersaturated calcium phosphate powder that when dissolved in water, creates a solution with a high concentration of electrolytes similar to that of natural saliva. SalivaMAX is an artificial saliva that is used to relieve acute and chronic symptoms of xerostomia. Supersaturated calcium phosphate rinses have been clinically proven to reduce the symptoms of xerostomia (dry mouth) due to medications, dysfunction of the salivary glands, Sjögren's syndrome, chemotherapy, and radiation treatment.
For more information visit:
https://forwardscience.com/salivamax