Posts for: September, 2017
By Denise A. Perrotta DMD
September 27, 2017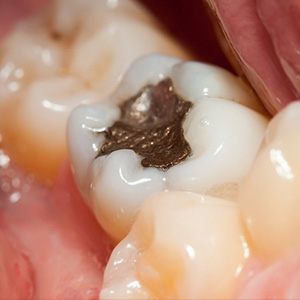 Over the last century and a half millions of people have had a tooth cavity filled with "silver" amalgam. Perhaps you're one of them. The use of this effective and durable filling has declined in recent years, but only because of the development of more attractive tooth-colored materials.
At the same time there's another issue that's been brewing in recent years about this otherwise dependable metal alloy: the inclusion of mercury in amalgam, about half of its starting mixture. Various studies have shown mercury exposure can have a cumulative toxic effect on humans. As a result, you may already be heeding warnings to limit certain seafood in your diet.
So, should you be equally concerned about amalgam fillings — even going so far as to have any existing ones removed?
Before taking such a drastic step, let's look at the facts. To begin with, not all forms of mercury are equally toxic. The form causing the most concern is called methylmercury, a compound formed when mercury released in the environment combines with organic molecules. This is the form certain large fish like salmon and tuna ingest, which we then ingest when we eat them. Methylmercury can accumulate in the body's tissues where at high levels it can damage various organ systems.
Dental amalgam, on the other hand, uses elemental mercury. Dentists take it in liquid form and mix it with a powder of other metals like silver, tin and copper to create a pliable paste. After it's placed in a prepared cavity, the amalgam hardens into a compound in which the mercury interlaces with the other metals and becomes "trapped."
Although over time the filling may emit trace amounts of mercury vapor, it's well below harmful levels. You're more likely to encounter "un-trapped" mercury in your diet than from a dental filling. And scores of studies over amalgam's 150-year history have produced no demonstrable ill effects due to mercury.
Although it now competes with more attractive materials, amalgam still fills (no pun intended) a necessary role. Dentists frequently use amalgam in less visible back teeth, which encounter higher chewing pressures than front teeth. So, if you already have an amalgam filling or we recommend one to you, relax — you're really in no danger of mercury poisoning.
If you would like more information on dental amalgam fillings, please contact us or schedule an appointment for a consultation.
By Denise A. Perrotta DMD
September 12, 2017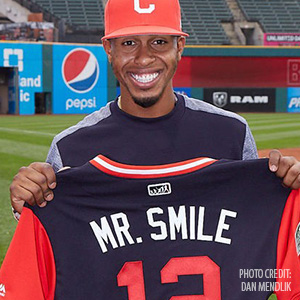 At the first-ever Players Weekend in August 2017, Major League Baseball players wore jerseys with their nicknames on the back. One player — Cleveland Indians shortstop, Francisco Lindor — picked the perfect moniker to express his cheerful, fun-loving nature: "Mr. Smile." And Lindor gave fans plenty to smile about when he belted a 2-run homer into the stands while wearing his new jersey!
Lindor has explained that he believes smiling is an important part of connecting with fans and teammates alike: "I've never been a fan of the guy that makes a great play and then acts like he's done it 10,000 times — smile, man! We've got to enjoy the game."
We think Lindor is right: Smiling is a great way to generate good will. And it feels great too… as long as you have a smile that's healthy, and that looks as good as you want it to. But what if you don't? Here are some things we can do at the dental office to help you enjoy smiling again:
Routine Professional Cleanings & Exams. This is a great place to start on the road toward a healthy, beautiful smile. Even if you are conscientious about brushing and flossing at home, you won't be able to remove all of the disease-causing dental plaque that can hide beneath the gum line, especially if it has hardened into tartar, but we can do it easily in the office. Then, after a thorough dental exam, we can identify any problems that may be affecting your ability to smile freely, such as tooth decay, gum disease, or cosmetic dental issues.
Cosmetic Dental Treatments. If your oral health is good but your smile is not as bright as you'd like it to be, we can discuss a number of cosmetic dental treatments that can help. These range from conservative procedures such as professional teeth whitening and bonding to more dramatic procedures like porcelain veneers or crowns.
Tooth Replacement. Many people hide their smiles because they are embarrassed by a gap from a missing tooth. That's a shame, because there are several excellent tooth-replacement options in a variety of price ranges. These include partial and full dentures, bridgework, and dental implants. So don't let a missing tooth stop you from being Mr. (or Ms.) Smile!
If you'd like more information about oral health or cosmetic dentistry, please contact us or schedule an appointment for a consultation. You can also learn more by reading the Dear Doctor magazine articles "Beautiful Smiles by Design" and "The Impact of a Smile Makeover."